By S. Harrish
ONE of Malaysia's most well-known celebrity Siti Nurhaliza, who has belted out countless hit songs, is Malaysia's most admired woman while our astronaut Sheikh Muszaphar Shukor is the most admired man.
According to a survey by YouGov portal, 41-year-old Siti, who has won more than 300 local and international awards for her singing prowess, remains the country's top choice after more than 20 years in the music industry.
Some 18% of respondents picked her as their top choice while about 10% chose Sheikh Muszaphar.
Malaysia's top SPM achiever Nur Amalina Che Bakri was second in the women's list.
After achieving a record 17A1s in the 2004 SPM, she is now a practising surgeon in the United Kingdom.
She has attracted much attention especially in social media for her tough stance on various issues.
With 713,000 Instagram followers, despite attracting some negative comments from netizens, she has stood her ground on issues affecting Malaysians and in the process gained much admiration from many Malaysians.
The 32-year-old Kota Baru-born Dr Amalina recently announced her engagement and vowed to tie the knot in two wedding ceremonies in the UK and Malaysia.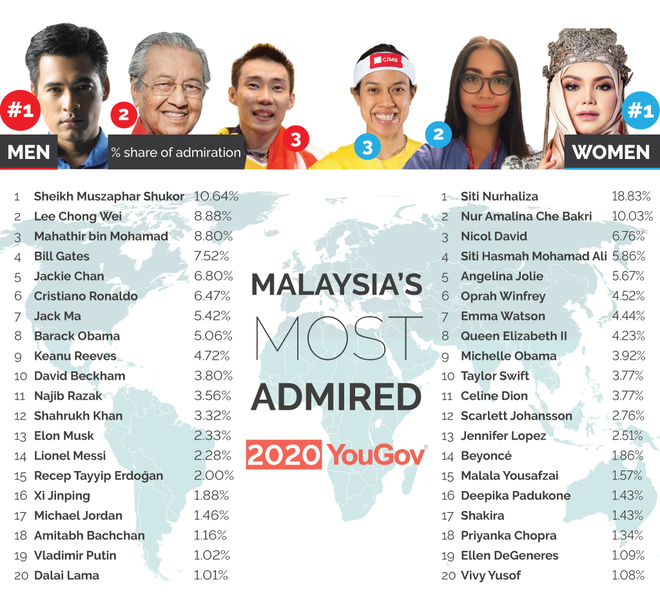 Retired sports personalities Lee Chong Wei is the second most admired man while Nicol David came in third among the women.
Former prime minister Dr Mahathir Mohamad showed that he has lost none of his charm when at 95 years old, he is the third most admired man in the country.
His wife Dr Siti Hasmah Ali is the fourth most admired woman in the country.
His arch rival and former premier Najib Razak, came in at 11th place.
Footballers Cristiano Ronaldo and David Beckham were at 6th and 10th place in the Malaysian rankings.
On the international scene, former US president Barack Obama deposed Bill Gates from his position as world's most admired man for the first time since YouGov started surveys in 2014.
Michelle Obama held on to her position as world's most admired woman, having ended actress Angelina Jolie's run of dominance last year.
Jolie is now at second place while Queen Elizabeth II rose one rank to become the world's third most admired female.
Gates has only slipped one rank, with some attributing his fall as a result of rumours that he is in some way involved in the spread of Covid-19.
Chinese president Xi Jinping finds himself in third place once again, having previously held that position from 2015-2017 while Indian prime minister Narendra Modi is in fourth place.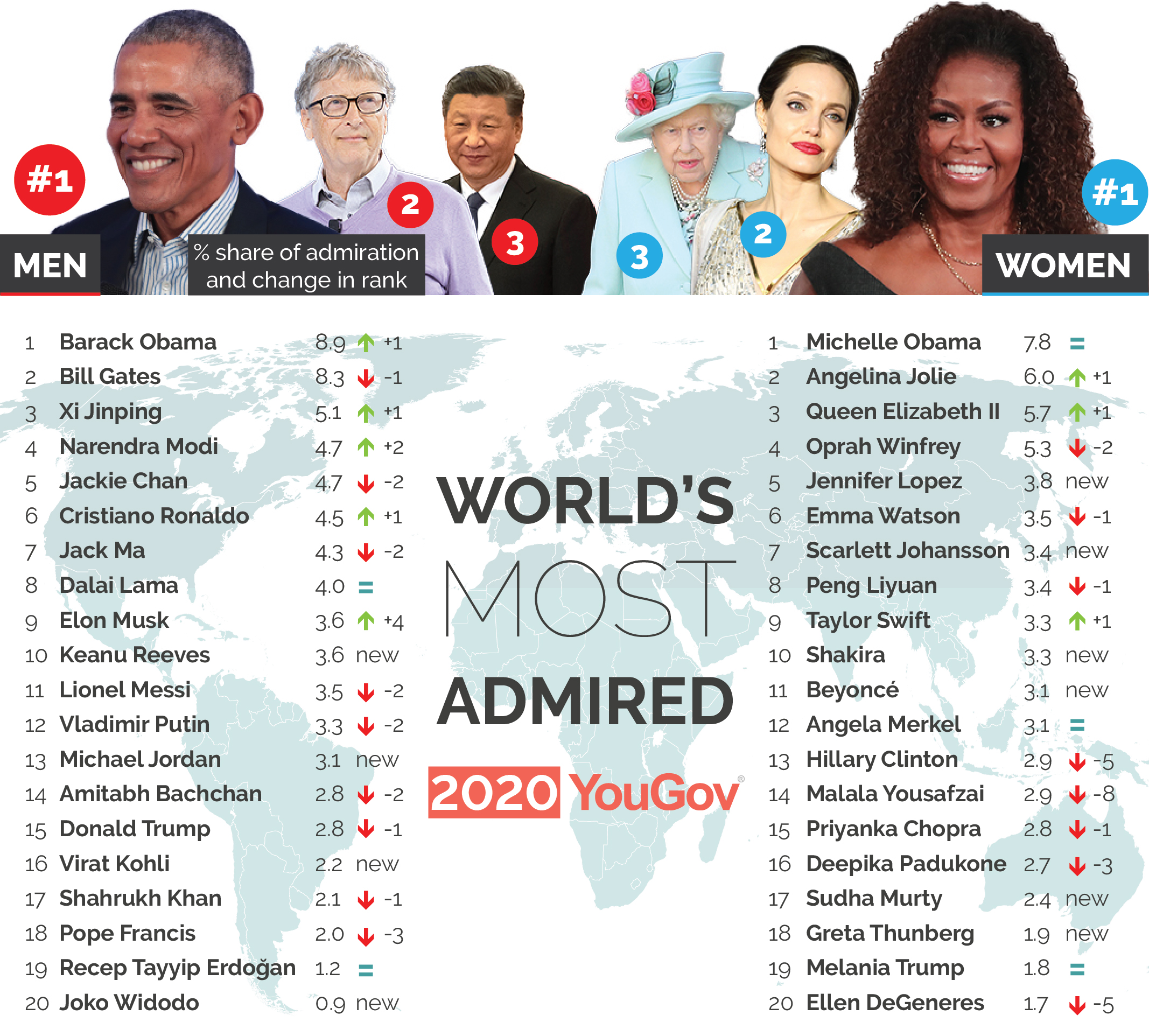 YouGov said this year's study is the largest ever with more than 45,000 people in 42 countries and territories being interviewed to compile the list.
Tesla and SpaceX CEO Elon Musk rose in rankings the most, climbing four places from 13th to ninth in global ranking while he was 13th in the Malaysian list.
Human rights campaigner Malala Yousafzai has fallen farthest, tumbling eight places from 6th to 14th.
YouGov said the results are calculated from the combination of responses to two questions – whether a respondent admires the figure at all and then whether they are the figure the respondent admires the most.
Each nation's results in the global compilation are also weighted to represent the country's population size.