By S. Harrish
HEALTH director-general Tan Sri Dr Noor Hisham Abdullah has denied that he has resigned, supposedly over the number of Covid-19 cases in the country.
"This is another fake news and misleading the public" he wrote on Twitter.
The claim had been making rounds in social media and Dr Noor Hisham uploaded a screenshot of the fake message together with his message.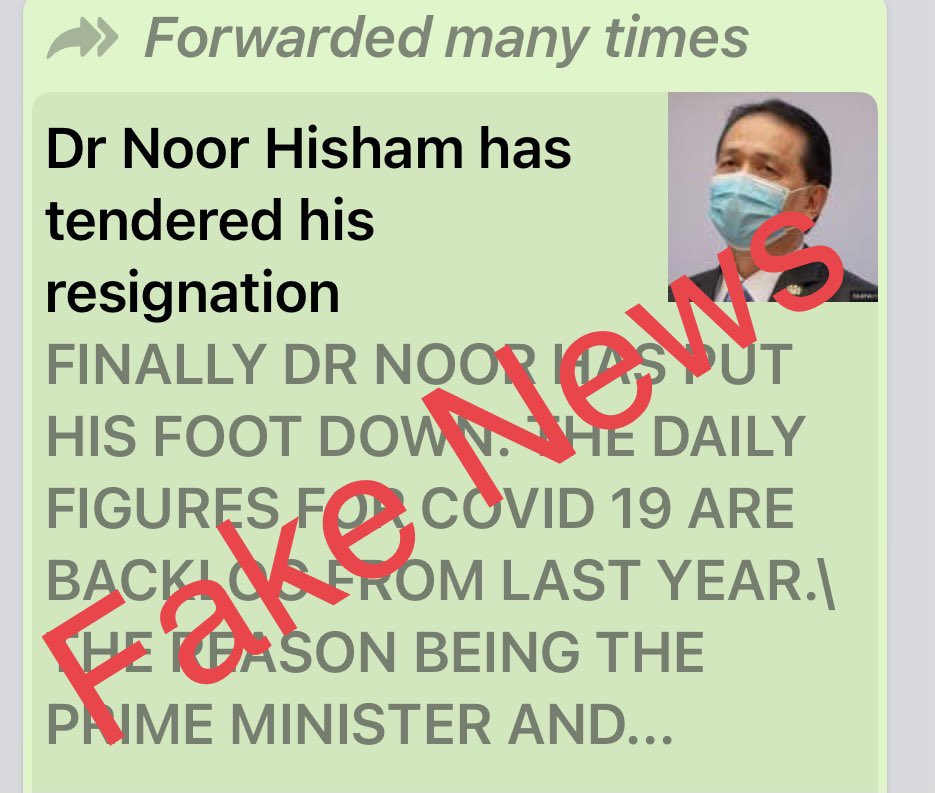 According to the message, Noor Hisham had tendered his resignation.
"Finally, Dr Noor has put his foot down. The daily figures for Covid-19 are backlogged from last year," it read.
Dr Noor Hisham had confirmed that the recent spike in Covid-19 cases was caused by a backlog in case reporting, including positive cases detected in 2020.
"There were also delays in reporting through the public health laboratory information system by registered private facilities, such as private clinics and hospitals," he had said.
Meanwhile, Malaysiakini reports that Dr Noor Hisham has explained that his leadership is both based on and limited by collective decisions.
He said the ministry's role was limited to advising the executive.
"From day one, we have advised and made suggestions to the NSC. Collective decisions are made by the prime minister and the council," he said.
His comments follow Umno vice-president Datuk Seri Mohamed Khaled Nordin call for Putrajaya to hand over the reins to someone with "fresh ideas and strategies" to combat the pandemic.
While he did not call for Dr Noor Hisham's removal, Khaled proposed that a new "czar" and a new inter-ministry approach were needed.
This, he opined, was because the Covid-19 situation had not improved since the first movement control order (MCO) was imposed last March.